Speaker
Rodney Gabel, Professor, Binghamton University, State University of New York, USA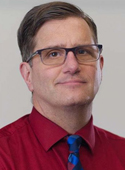 Rodney Gabel joined Decker College of Nursing and Health Sciences in July 2020. He is the founding director of the Speech-Language Pathology Division and a professor in Decker's School of Rehabilitation Sciences.
Gabel has 20 years of experience in academia. Previously, he held positions at the University of Wisconsin-Stevens Point, Bowling Green State University and most recently the University of Toledo.
Gabel has been an active researcher during his career, publishing more than 75 articles and presenting more than 100 papers at professional conferences.
An expert in stuttering, Gabel owned the Gabel Center for Stuttering Therapy, LLC, a private practice for people who stutter. Additionally, he has been an active clinician and member of the stuttering community. He sits on the board of the International Stuttering Association and served on several professional committees.
« Go Back