Gala Dinner Talk by Michael Palin
Michael Palin will give a talk at the Gala Dinner on the evening of Friday, 22 September 2017.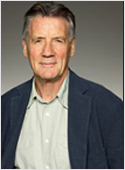 Photo credit: John Swannell
According to his website, 'Michael Palin is not a nice man at all. He's an ill-tempered lout who sits in bed all day eating fudge. When he can be bothered to make the effort he writes novels, does television documentaries, goes on one-man theatre tours, publishes diaries, writes screenplays, does a bit of acting, makes radio appearances, records narration for the Clangers, drinks strong coffee and works for Monty Python. But that's about all.'
However, the children and staff at the Michael Palin Centre would take issue with this description. Michael agreed to the Centre being named after him following his role in the film "A Fish Called Wanda", in which he portrayed a character called Ken who stammered. He based the role on his own father who stammered all his life. Michael's support for the Centre over the past twenty years has been by no means purely nominal. He visits the children and their families regularly, raises funds for children who stammer and takes every opportunity to raise awareness about stammering in his many media appearances. The world of stammering is fortunate to have such a supporter.
« Go Back