Speaker
Carmen Lefevre, University College London, UK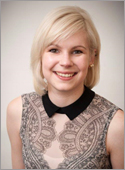 Dr Carmen Lefevre is a Research Associate at the UCL Centre for Behaviour Change (CBC). She works on a number of projects looking at applying evidence based behaviour change theories and techniques to real world problems as well as to advance behaviour change theory. Current projects include the Horizon 2020 City4Age project aiming to utilise digital technology to prolong independent living in older adults and works on improving people's online security behaviour. She has additional research interests in theoretical behaviour change work, currently working on understanding commonalities between existing behaviour change theories. Carmen is a member of the Advisory Committee on Antimicrobial Resistance and Healthcare Associated Infection. Prior to joining the CBC in 2015, Carmen held posts at the Universities of Leeds and York, as well as Northumbria University. Carmen completed her PhD in Psychology (2013) at the University of St Andrews looking at links between healthy life styles and facial appearance. Her expertise spans cognition, decision making and behaviour change.
Talk Title: Achieving successful behaviour change – introducing a systematic method to change behaviour
Carmen Lefevre will present a workshop immediately following her keynote address on the morning of Friday, 22 September – click here for details. Places are limited so please contact k.russell@elsevier.com if you would like to reserve a space.
« Go Back